4 December 2012
HITS Palm Springs Ironman - Race Report
Posted by Brad Hefta-Gaub under: Fitness.
Well, I did it. My 7th year in a row of completing an Ironman race. This year was challenged thanks to being hit by a car this summer, and breaking both my arms. But, I rescheduled, and got it done.
All in all, I'm happy with the result. There are definitely areas I need to improve on. The key issue being nutrition. I still haven't figured that out for races over 5 hours. But I did set a new Swim PR, and a new Bike PR, even though I had a major mechanical issue at mile 43 of the bike.
Prep/My Blister
As you may know, I got a huge blister on my foot from the Quadzilla last weekend, so I had spent the days before the race treating my foot, and planning for how to tape it during the Ironman so I could finish. My blister seemed to be healing up very well and so I was confident the night before that with a good tape job, I might be able to race the entire race "all out" and not need to treat it at each transition. I taped up my foot the night before, and was ready to go race morning!
Swim
The swim was 4 loops, which included getting out of the water, running across a timing mat on the beach and jumping back in the water between each loop. There were about 85 competitors in the Iron distance, and 350 competitors in the Half-Iron distance, and we all started in a mass start together. This wouldn't have been too bad, except that the swim course was set up near the shore (only 25 yards between the shore and the buoys) so it was really cramped. I got punched, kicked, and grabbed for the first 3/4 of a lap… then it finally started to thin out a bit.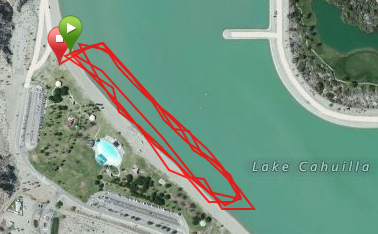 Unfortunately, my tape job didn't hold up at all, and within the first 300 yards, the tape had started falling off and was flapping on my foot. We were so close to shore, I just stood up, took the tape off and balled it up and threw it to shore. Then I swam the rest of the swim with no tape on my foot. The remaining piece of loose skin (which basically covered the entire arch of my foot) was flapping in the water as I completed the swim. It didn't hurt, but it was definitely a strange feeling. And I knew I'd have to do something about it in T1 to "fix it".
After completing 4 laps, I ran out of the water, and saw that I had set a new Swim PR! Woot! 1:16:58 more than 2 minutes faster than my previous PR.
T1
Normally I like to fly through transitions, but today would require me to treat my foot at each transition. I was a little bummed my tape didn't hold. But what could I do. So in transition I cleaned my foot the best I could, and tried my best to dry my foot and tape it down again. The tape didn't really seem to stick, but I figured it wouldn't matter much on the bike, and I could always try again in T2. So after more than 7 minutes of messing around, I decided to go for it.
Bike
I jumped on my bike and immediately felt great. The course was totally flat, and since I didn't know how well I'd be able to run on my blister, I figured, I might as well go all out on the bike and shoot for a new PR.
I dropped into my aeros and started to fly. The course was 3 loops of 37.3 miles each. Basically it was 18.67 out and back, three times. I had driven the course a couple days earlier so I knew what to expect.
Within the first 7 miles though, I saw something I wasn't expecting. There was a group of guys riding in a pace line! This is clearly a violation of the rules. They were all wearing a team kit, and it was clear they were working together. They passed me… but I wasn't going to just let this stand. So I caught up to them and started yelling at them. "What the hell do you guys think you're doing?! Drafting is not legal!"
At this point, one of the guys who was wearing an odd bib number, explained. His name was James Lawrence, and he was racing in his 30th Ironman race of the year. Setting a Guiness World Record for most Ironman races in a year. He had asked special permission for his friends to ride with him… and he assured me that "none of their results would count in the overall or age group awards". That explained why he was wearing bib "30″ and all the rest of us Iron distance athletes were wearing 33xx numbers.
I was still a little frustrated by this, because I was a little skeptical that none of his friends times would be counted, but I also figured that it really didn't matter for my race.
But there were other racers, who weren't wearing his jersey that were also drafting and riding in pace lines. I called out multiple of them. It was really annoying that this one woman in particular was drafting off of me. I pulled away from her and had a good half mile lead on her, and then 10 miles later she passes me riding with a group of cyclists riding in a mini-peloton. I called them out again and said "You guys are cheating! Stop drafting! That's against the rules!" They flat out denied it and said "we're not drafting"… yes, they were!
At one point I even heard a volunteer at an aid station say "here comes the peloton"… I kept thinking. This is messed up! This is totally against the rules!
Anyway, starting the second loop, I did my best to ignore them and just ride. I got out ahead of them and tucked down and pushed forward. I was still feeling great. Putting out about 215 watts of average power and an average heart rate around 140 bpm. This was a good place for me to be. If I kept my nutrition right, I should be able to maintain it. And since I was averaging 21.8 mph, if I kept this up I would absolutely CRUSH my bike PR.
Things were going great until mile 43… then POP! PLING! Oh oh…. I think I know what that was… I look down at my front wheel, and sure enough… it's wobbling like crazy! I've broken a spoke! I stop, and check it out… yep a broken spoke! What do I do!?!!
At this point, I'm totally freaking out. I have never had a DNF… and I don't want to have one now, after all I've gone through already this season, this would be a really lame way to have it end! I called the Race Director and asked him to send a "support car". And then I just stood there freaking out.
I kept wondering, what can I do to spend time, while I wait… I knew that my foot was probably messed up with a big flap of skin, and for a second I considered pulling out my utility knife and spending time cleaning up my foot while I waited. But before I got my shoe off, the support car pulled up!
I told him I'd broken a spoke, and what I needed was a 650 front wheel… he said he was pretty certain they didn't have any, but he'd call the mechanic to see. He also asked me if I'd tried releasing my font brake to see if that would let the wheel spin. We tried it, but the wheel was too out of true, and would rub against the brake pads. As he was on the phone I decided to loosen the brake completely and see if that helped. Messing around with it, I was finally able to get it to spin again, although it was very wobbly!
I'd had wasted about seven and a half minutes standing around, and my average speed had dropped to 20mph! I was bummed. But at least, I figured, I could finish this ride well before the cut-off, and I won't get a DNF. I was just worried I'd break another spoke, and then I'd be totally hosed!
Once I started rolling again, I found that I could still ride relatively fast even with the wobbly wheel. I didn't hammer it as hard as I could, because I was worried about something else breaking, but I tried to keep my speed around 20mph. I finished the second lap with an average speed of around 20.4mph. My heart rate had dropped a bit, and my overall power output was also dropping, but at the time I figured that was just because I was taking it easier on the second lap, due to my broken spoke.
Coming out on the third lap I powered through the first 5 miles or so, keeping my speed around 21-22mph, and taking advantage of the favorable road conditions. But by mile 90 I was starting to really fade. I had developed a bit of a stomach ache, and I was burping up the solid food I had eaten earlier in the ride. I was still on pace to set a bike PR, and so I spent the next 22 miles doing mental math to keep myself motivated. I remember calculating that if I just averaged 15mph, I'd still set a PR. Then by mile 100, I only needed to average 12mph and I'd still get a PR… by mile 105 I could average 9mph… and so on.
I finally came into T2 with a bike split of 5:50:43! More than 10 minutes faster than my previous PR! Not bad at all considering my mechanical and my blistered foot!
T2
Now the time of reckoning on my foot was here! I was a little worried what I would find when I took my shoe off. But it turns out it wasn't as bad as I expected. The tape I'd put on at T1 had held, and so I was confident if I taped it again, it would also hold. But I needed to do something about this huge flap of skin.
I had a pretty extensive set of medical/blister care tools and supplies with me. And fortunately I had a pair of scissors I could use to cut this flap of skin off. The good news is that the skin under the blister had actually already started to grow back, and wasn't at all raw. I'd been soaking my foot in Epsom salt for the last several days, and it had done the trick. But I still needed to keep this up, since I hadn't done a great job in T1, I actually still had beach sand inside the blister area.
I'm sure this sounds gross and painful, but actually it wasn't either. Basically I gave myself a pedicure in T2. I took my time, and cleaned it really well, put on some anti-biotic ointment, and covered it with a bandage, and then taped it down with Duct Tape. All in all it took me nearly 20 minutes. But I didn't care… at this point, my only goal was to finish. And I still had 9.5 hours before the cutoff. I knew I'd make it to the finish, no problem!
Run
I started out the run kinda slow, up the hill out of transition and on to the main road. But with a half mile or so I realized that my foot was feeling pretty good, and my legs felt like they had plenty of spring, so I decided to try to go for it and run. After the first couple miles, I realized I was running about a 10:20 pace, and if I kept it up, I would actually set a run PR! How awesome would that be.
But my stomach was still turning, and I hadn't eaten anything for more than an hour. I was trying to drink water, and munch on ice, and I was hoping they'd bring out chicken broth soon, since I thought that would help… but by mile 5 I realized, I was not going to be able to keep it up, and I started walking.
From there on out, it was a lot of walking, and some jogging. By the first turn around I had pretty much given up hope on running any more. But at this point, I knew I'd be able to finish even if I walked the rest of the way.
Near the half way point, I got caught by another athlete, Tim, who was also suffering from stomach problems. We ended up keeping each other company for the rest of the race. It was good to have some company… misery loves company after all. We chatted about all things Ironman… training, past races, nutrition, the cheaters, etc.
Eventually I found out that Tim's previous PR was 14 hours, and after checking the math, I realized we'd have plenty of time to hit that goal, so long as we kept jogging a bit each mile. There was even an outside chance we could beat 13 hours if we ran. I promised him we'd get him a new PR. I felt like I should give back a little for the help I got from my Marathon Maniac friends who helped me with a PR and course PRs on the Quadzilla.
Although we didn't make it in Sub-13, as we got closer and closer to the finish, it was clear that we'd not only beat 14 hours, we were in good shape to beat 13:30. We'd run most of the distance between aid stations, then stop, get water/broth/etc, walk a little more, then start running again. As we inched closer I kept doing the math… "Alright, we got 2 miles and 28 minutes, we can do this!". I was toast, but I had enough gas in the tank to push Tim, and we even broke 13:25! We finally came across in 13:23:50! Not bad!
Lessons to be Learned
Nutrition… Clearly I need to work on my nutrition. I think I was getting a little too fancy with trying to combine my fuel (Generation UCAN) with electrolytes and caffeine. Next time, I'm going to keep these things separate. Also, I'm going to stick with the instructions, and not supplement the Generation UCAN with "protein". They advise only using the complex carbohydrate mix during the race, and to use the protein mix AFTER race. I had blended one package of the protein mix in, and I think that might not be good for me. I was also supplementing with MET balanced solid food. But the solid food was what seemed to be backing up on me. So that's definitely out! Basically… I need to RTFM!
Pacing… You can clearly see from my bike power, speed, and heart rate charts that I was fading. I just pushed myself too hard. I didn't feel like it was that hard, but I apparently hadn't done that long of an effort at that pace. Next year, I will start doing more focused training around power. I want to increase my power more, and so that will me more interval training at even higher power demands, as well as more long distance stuff at higher power. In retrospect, I really only did one 5+ hour effort before race day. And that's simply not enough experience on the road. Again… RTFM!
Summary
In the end, I'm pretty happy with my results. I set new PRs for the swim and bike splits, despite having major problems on the bike. And although my run was pretty bad, last week's quadzilla convince me I have a lot more potential in that department. I need to get my nutrition and pacing figured out. This is pretty basic stuff, and so, next year, it will be about getting back to basics.
Prologue: Cheaters
The biggest frustration of the race was the cheaters. In the end I determined that the Race Director was just naive about what happens when you don't enforce the rules. Apparently many of us complained to him after the race. At the awards ceremony, he made a big speech about "breaking rules", and took some responsibility for "not clearly going over all the USTA rules before the race". He said next year, he'll clean it up. But, he decided he'd let the results stand as they were… and basically handed out awards to the people who had cheated.
Although I don't blame James "Iron Cowboy" Lawrence for what happened, I think his presence and the "special circumstances" contributed to the problem. In fact, his results, and his team results were not removed from the Age Group and Overall winners. He was given an award for 2nd in his Age Group. At the Awards ceremony, he protested a little… clearly, this was not the "deal" he had expected and agreed to. But the Race Director clearly didn't understand the agreement. I think had James known the Race Director would be so unprepared, he wouldn't have asked for special consideration, and would have raced like a standard race.
But many of the other racers didn't know about this "agreement" and so at the awards ceremony there was a lot of chatter. Many people just assumed they were a bunch of friends riding together, blatantly breaking the rules, and for some people, that was all the excuse they needed to also break the rules.
Digg! this story.
One Comment so far...