22 August 2008
Faster than a McNugget? Able to Drink Sewage?
Posted by Brad Hefta-Gaub under: 2008 Olympics; Drinking Water; Fitness; McDonalds Chicken McNuggets; Sewage; Usain Bolt; food; health; olympics.
Here's a couple of random links I found on the web today… they both struck me as worthy of being shared…
First off, a fascinating piece in the  New York Times Magazine about how Santa Ana California is transforming their sewage water into clear potable drinking water. It's really quite amazing to me that we've built the technology to do this. It's even more amazing when you consider that the idea of keeping your sewage separate from your drinking water has really only become common place in the last 150 years.
Apparently the biggest issue facing the plant is not technological at all… but psychological.  Gee, I wonder why?
Speaking of putting crap in your body… Usain Bolt — arguably the worlds fastest man, and olympic gold metalist says he eats McDonald's Chicken McNuggets before the race.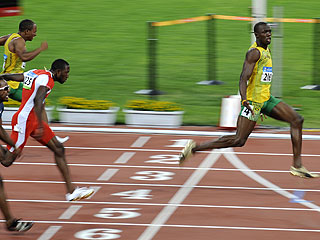 In this article on People.com, Bolt admits that mcnuggets are one of his favorite pre-reace food…. like he's eating them while at the track! 
"I got up at the same time pretty much [as I did for the 100 meters], no lie, at noon," Bolt said. "My masseuse brought me the nuggets. I went straight to the track and then my masseuse brought me more nuggets. I just ate two though because my coach said I should not eat so many nuggets."
Oh boy… I hope he doesn't test positive for PEDs… how would McDonalds explain that?!
Digg! this story.
2 Comments so far...